Calcium aminoethyl phosphate (calcium EAP), calcium orotate, and phosetamin are part of a therapy advocated for many years by Dr. Hans Nieper of Hanover, Germany, who claims that these compounds act as neurotransmitters that stimulate the central nervous system and also protect the nerves against immune attack while repairing damaged nerve function. In 1984 the German Multiple Sclerosis Society urgently advised multiple sclerosis (MS) patients against this treatment because of the lack of evidence of effectiveness and the false claim that it was the only treatment of MS accepted by the German office of health. It is not accepted in Germany or anywhere else. The treatment with calcium EAP is by injection, five times a week and then every other day. Phosetamin, calcium orotate, and calcium EAP are also taken daily in pill form. The treatment - combined with regular doses of cortisone (5 to 8 milligrams daily), vitamins, and trace elements - must be continued throughout the patient's lifetime. Certain drugs and a raw food diet supplement the therapy. Experts view the treatments at the Nieper clinic with overwhelming skepticism. The only clinical work on this therapy was reported in 1966 in Aachen, Germany. This study showed that movement disturbances improved in about 32 percent of cases, but no other symptoms were helped. Soon after, calcium EAP treatment was discontinued at the clinic that reported the study. Until Nieper provides more substantial evidence of its effectiveness, this expensive treatment is not recommended.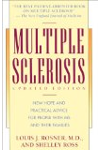 More About this Book
Multiple Sclerosis
Too often, multiple sclerosis is thought of only as "the crippler of young adults." But in fact, 75 percent of all people with MS will never need a wheelchair. In Multiple Sclerosis, Dr. Louis J....
Continue Learning about Multiple Sclerosis Treatment