Spasticity in multiple sclerosis (MS) is abnormal muscle tone. When mild, it can cause a feeling of stiffness; when severe, moving an extremity can be difficult. Spasticity hinders mobility as the extremity responds slowly or takes on an abnormal position. Energy expenditure when moving with spasticity is higher and may contribute to the overall feeling of fatigue in MS; however, spasticity is not always bad. Many people use their stiffness to stand, transfer, and even walk.
Spasticity is a situation in which a limb becomes stiffer than normal and does not relax easily. It is more common in the legs than in the arms. It is usually evident only when the person gets up to walk, whereupon the leg stiffens out and is difficult to bend at the knee. This forces the person to walk in a stiff-legged fashion, either scuffing the toes or swinging the leg in an outward circle to avoid scuffing them. Spasticity often accompanies weakness, but one can have spasticity without weakness and weakness without spasticity.In some ways spasticity is nature's compensation for weakness in the legs, as it may keep the weak leg from buckling at the knee. Occasionally, spasticity is so severe that the limb involved will stiffen out or draw up with any change in position or even at a simple touch. Fortunately, there's very good treatment for spasticity including physical therapy, three effective medications, and relaxation techniques.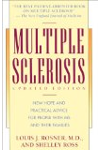 More About this Book
Multiple Sclerosis
Too often, multiple sclerosis is thought of only as "the crippler of young adults." But in fact, 75 percent of all people with MS will never need a wheelchair. In Multiple Sclerosis, Dr. Louis J....
Continue Learning about Multiple Sclerosis Symptoms