L. S., a seventy-four-year-old male dentist, had a relapsing-remitting course for the first four years of his illness. If the 1944 numbness following the car accident is included, the relapsing-remitting course lasted twenty-four years. Since 1976 the weakness in the legs and hand has fluctuated and is directly related to how much he is overworked, overtired, and overexerted. Today he has severe weakness in the left leg and uses a knee brace. He also has mild weakness in the left hand. He walks with a crutch and still works part time treating jaw-joint disorders. This case illustrates what may happen with older age of onset: a short-duration relapsing-remitting stage and more severe permanent damage.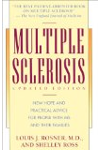 More About this Book
Multiple Sclerosis
Too often, multiple sclerosis is thought of only as "the crippler of young adults." But in fact, 75 percent of all people with MS will never need a wheelchair. In Multiple Sclerosis, Dr. Louis J....
Continue Learning about Multiple Sclerosis Symptoms