Additional symptoms that may occur in a spinal cord attack but are not common include bowel and bladder difficulties and sexual dysfunction.
Bladder symptoms include hesitancy (slowness in starting urination), increased frequency of urination, urgency (the feeling of having to empty the bladder quickly), retention (inability to empty the bladder completely), or episodic incontinence (lack of control). Bowel symptoms include constipation, urgency, and, rarely, incontinence. Sexual dysfunction can include lack of feeling in the genitals, trouble getting or maintaining an erection, or difficulty achieving orgasm. Interestingly, some men can still ejaculate although they can no longer achieve erection. Women have, on occasion, reported a lack of vaginal secretion.
When these additional symptoms occur, they are often not due to multiple sclerosis (MS). Urinary frequency and urgency, especially when there is burning with urination, may arise from a bladder infection. Constipation frequently reflects bad habits in regard to diet or laxatives. Sexual impotence can be entirely psychological, reflecting depression or anxiety. These symptoms are too often wrongly attributed to MS, so it's important that they be discussed with a doctor to avoid jumping to hasty conclusions.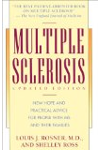 More About this Book
Multiple Sclerosis
Too often, multiple sclerosis is thought of only as "the crippler of young adults." But in fact, 75 percent of all people with MS will never need a wheelchair. In Multiple Sclerosis, Dr. Louis J....
Continue Learning about Multiple Sclerosis Symptoms