Depression is common among multiple sclerosis patients, says neurologist Charles Smith, MD. It's not known whether depression is part of the progression of multiple sclerosis or a reaction to the stress of coping with the disease.
All chronic illnesses, including Multiple Sclerosis (MS), cause a greater or lesser degree of depression. In MS, this is due partly to the difficulties that come with having a chronic illness (financial problems, fear of death or disability, pain, actual impaired capacity) and due partly to the illness itself (abnormalities in the brain and in the nerve signaling mechanisms.)
Depression is one of the most treatable symptoms of multiple sclerosis. Whether your depression is a psychological response to the disease or a physiological aspect of it, depression is a manageable condition.
Talk to your doctor about your feelings of sadness, grief or anxiety.
Statistics suggest that having a diagnosis of multiple sclerosis (MS) increases the odds of a diagnosis of major depression. MS­-related changes in the brain and immune system often promote depressive symptoms and can arise as a side effect of certain drugs. Because stress, MS and depression have overlapping symptoms, trying to uncover the source of your feelings can be tough. Depression is characterized by a sad mood and/or a loss of interest in daily activities for a time frame of several days—generally around two weeks. There is commonly a decrease in pleasure in activity and an increase in irritability. Not infrequently, there are changes in appetite (either increasing or decreasing) and in sleep patterns (insomnia or hypersomnia). Other physical symptoms—such as loss of energy, psychomotor retardation (a slowing of thought or reduction of physical movement) or agitation—are difficult to interpret because of other MS symptoms.
Seeking out a healthcare provider to evaluate your physical and emotional wellness is a crucial next step. Regardless of whether you are experiencing depression, MS relapse, stress or something else, it is essential to trust your instincts, advocate for yourself and take action. If your symptoms are consistent with depression, your provider will collaborate with you on deciding the best interventions for your individual circumstances. Your provider may consider:
individual preferences about treatment
depression severity and specific symptoms
past history of depression and response to interventions, including medication and counseling
other health conditions
current medication regimen
We have only recently learned that 50 to 60 percent of people with MS will experience a major depressive incident, much higher risk than the 17 percent of the general population. It is often difficult to discern whether it's a direct result of the pathology of MS or an emotional reaction to the MS diagnosis and the subsequent difficulty of coping. But much of it is now believed to be organic to the disease process.
Although rare, some patients with brain stem attacks may have emotional lability—sudden outbursts of inappropriate laughing or crying. The patient may cry without control at a sentimental episode on TV or laugh when the knee reflex is tapped. This may be in isolation or associated with speech difficulty. Emotional lability is treatable with two different medications—tranquilizers such as Valium or antidepressants such as Elavil. A good compromise is Triavil, a tranquilizer and antidepressant. Sometimes euphoria, a feeling of wellbeing not justified by circumstances, is present. It is rarely noticed when mild. In more severe cases, mood-altering medication may be indicated.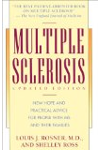 More About this Book
Multiple Sclerosis
Too often, multiple sclerosis is thought of only as "the crippler of young adults." But in fact, 75 percent of all people with MS will never need a wheelchair. In Multiple Sclerosis, Dr. Louis J....
Multiple sclerosis (MS) researchers have found an increase in the statistics for major depression among people with MS: 50 to 60 percent will suffer depression at some point in their lifetime, as opposed to about 17 percent of those without the disease. University of Toronto researchers have recently found structural changes in the brain, using magnetic resonance imaging, and compared the brains of 21 people with MS and depression to 19 people with MS and no depression. Those with depression did show more signs of lesions and atrophy, but not in every case. It is now generally accepted that in some patients depression can be caused by MS, not just be a reaction to it. While researchers continue to investigate, it's important to remember that there are many effective new treatments for depression, and a mental health expert should be added to the management team as needed.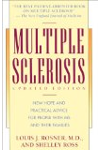 More About this Book
Multiple Sclerosis
Too often, multiple sclerosis is thought of only as "the crippler of young adults." But in fact, 75 percent of all people with MS will never need a wheelchair. In Multiple Sclerosis, Dr. Louis J....
Depression is definitely more common in people with multiple sclerosis (MS) than in the general population. This is likely due to the biology of MS itself and its effect on the central nervous system, combined with psychosocial factors associated with MS.
Symptoms of depression can often overlap with common symptoms associated with MS and, therefore, can be difficult to differentiate. Signs and symptoms of depression that overlap with symptoms of MS are:
energy (fatigue or loss of energy)
concentration (diminished ability to concentrate or indecisiveness)
psychomotor (psychomotor agitation, restlessness or feeling slowed down)
sleep (fragmented, initial insomnia or middle insomnia)
Depression can have a significant and negative effect on functioning in those with MS, particularly as it often strikes individuals in middle adulthood (20-­40 years of age) when they may be pursuing college, a career or raising a family.
Regardless of the source, recognition of depressive symptoms and early treatment is important to lessen the negative effect on daily functioning and disease symptoms. In fact, research has identified the presence of depressive symptoms during the course of an MS relapse as the biggest predictor of depressive symptoms at two and six months following a relapse (regardless of improvement in disability status). The consequences of untreated depression can be significant for individuals diagnosed with MS, as both quality of life and adherence to MS medications have been found to be lower.
Continue Learning about Multiple Sclerosis Symptoms