Hand Tremor and Incoordination becomes apparent when the arm or hand performs actions in a clumsy fashion, sometimes with shaking, slowness, poor rhythm, or an inability to control speed or accuracy of movement. This problem also occurs with the legs and feet, but it is more serious when it involves the hand - greater coordination is required for daily chores like buttoning a sweater or cracking an egg.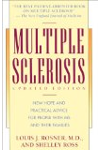 More About this Book
Multiple Sclerosis
Too often, multiple sclerosis is thought of only as "the crippler of young adults." But in fact, 75 percent of all people with MS will never need a wheelchair. In Multiple Sclerosis, Dr. Louis J....
Continue Learning about Multiple Sclerosis Symptoms