Fatigue is one of the most common symptoms of multiple sclerosis. Fatigue may be a primary symptom or it may be the result of other symptoms, such as weakness or pain. Some MS-related fatigue is constant, while some pain comes and goes. Fatigue is a highly treatable symptom of multiple sclerosis. Keep a diary of your energy level and bring these notes to your doctor to help assess your treatment options.
Fatigue is the most common and persistent symptom of multiple sclerosis (MS), affecting nearly 80 percent of those with the disease. It is an overwhelming sense of tiredness. Fatigue may occur when nerve conduction is depleted. When fatigue flares, simple daily chores may seem like monumental tasks. Sometimes, extreme temperature changes or chronic pain can trigger fatigue. Other times, fatigue may be a side effect of medication, or simply a symptom of MS. Ignoring fatigue can result in an exacerbation. This is also called an attack or flare-up, and refers to a period of time when a person experiences a worsening of symptoms. Fatigue can also be caused by depression, poor nighttime sleep and unhealthy habits (poor nutrition, lack of exercise and smoking).
Treatment for any multiple sclerosis (MS) fatigue is highly individualized. Treatment for primary fatigue would usually include prescription medication combined with non-drug therapy, such as behavioral modification. Currently, there is no medication approved by the Food and Drug Administration (FDA) specifically for treatment of fatigue in MS. However, there are medications available that have shown some benefit in many people.
The first-line agents used for fatigue include amantadine (Symmetrel) for mild fatigue and modafinil (Provigil) for more severe cases. Some antidepressant drugs may be considered for fatigue, if there is a coexisting depression. No one drug works for everyone and it is important to describe your fatigue symptoms in detail to your doctor so he/she can determine which drug or other therapy would be the most appropriate for you.
Know the possible side effects of your medication and keep your doctor informed of how you are feeling after you begin the medication. It is also important to be aware of the optimal time of day for taking your medication. If you take it too late in the day, it could cause problems sleeping at night, thereby worsening your fatigue during the day.
Sometimes, getting adequate rest, engaging in some form of physical activity as advised by a doctor or physical therapist, eating well and receiving support and understanding from friends and family members can make all the difference. Still, there may be times when an exacerbation may be unavoidable, and it is important to realize that no one is to blame.
Fatigue is a symptom of multiple sclerosis (MS) that's in a category of its own since it cannot be traced to any one spot in the nervous system. While it is the single most common complaint of patients, it is also the one symptom to which others are least sympathetic. Especially in the absence of other symptoms, others can easily regard it as laziness, depression, or copping out. This is unfortunate because, although fatigue is invisible, it can often be the most debilitating of symptoms.
There is not yet a good anatomical explanation for the fatigue of MS. Sometimes it is due to subtle weakness in the legs. Sometimes it is the result of the extra work required to stay active in spite of a balance or coordination problem. Sometimes it is related just to the frustration of having MS. In any case, fatigue often occurs in isolation, unassociated with other symptoms, when the MS has gone into remission.
Fatigue commonly strikes in the late afternoon, when the body temperature normally rises. Frequently fatigue is relieved by cooling off and resting. By early evening, when the body temperature starts to fall again, fatigue will subside. Fatigue, though very real and sometimes very debilitating, is one of the more deceptive complaints of MS. Patients can look terrific but feel exhausted. This is one reason why collecting disability insurance for fatigue has been a controversial issue.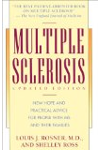 More About this Book
Multiple Sclerosis
Too often, multiple sclerosis is thought of only as "the crippler of young adults." But in fact, 75 percent of all people with MS will never need a wheelchair. In Multiple Sclerosis, Dr. Louis J....
Continue Learning about Multiple Sclerosis Symptoms