Facial nerve abnormalities are a symptom of Multiple Sclerosis (MS) and can cause weakness of one side of the face, facial muscle spasm or twitching.
Facial weakness, numbness, spasms, palsy, pain, and myokymia (the involuntary rapid flickering of facial muscles) occurring on one side of the face, are all symptoms that are not very common but can be multiple sclerosis (MS)-related. Facial weakness can also be due to Bell's palsy, a virus infection of the facial nerve.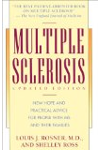 More About this Book
Multiple Sclerosis
Too often, multiple sclerosis is thought of only as "the crippler of young adults." But in fact, 75 percent of all people with MS will never need a wheelchair. In Multiple Sclerosis, Dr. Louis J....
Continue Learning about Multiple Sclerosis Symptoms