The MacDougall Diet, developed by Roger MacDougall, a writer and dramatist, is a combination of low-fat and gluten-free diets. Professor MacDougall claimed his diet caused his own multiple sclerosis (MS) symptoms to disappear, but broader scientific evidence of this has yet to be shown.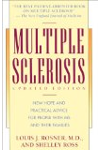 More About this Book
Multiple Sclerosis
Too often, multiple sclerosis is thought of only as "the crippler of young adults." But in fact, 75 percent of all people with MS will never need a wheelchair. In Multiple Sclerosis, Dr. Louis J....
Continue Learning about Multiple Sclerosis Symptoms