Multiple sclerosis (MS) is the most unpredictable of neurological diseases, with symptoms and signs present one day and gone the next. They can even disappear from one hour to the next. A person who can't work in the morning may be well in the evening, and sometimes it's just the opposite. Is this phenomenon just another MS puzzle? Maybe so, but it is one the person with MS can start to solve. There are many explanations for a lot of symptoms, even attacks.
Let's think back to some of the case studies. K. S. did not have any MS attacks in six years, but "after starting a new gym exercise routine and playing tennis, he experienced tingling in his left arm and left leg." B. B., female, also went without a single attack for six years, but "after a bout with ... hepatitis ... she developed dizziness, loss of balance, and double vision," which lasted five days. K. L., female, age forty-four in 1990, "while running down an incline on a slippery surface ... slipped and fell. The trauma brought on a new attack." T. B. "adopted a baby and was exhausted from the change in routine. [She developed] double vision, dizziness, loss of balance, numbness, and weakness in all four limbs."
Today we know that many factors can affect or aggravate MS. While some will influence the coming and going of symptoms, others will influence the course of the disease and the occurrence of new attacks. Some are even associated with onset.
Temperature changes
Physical exertion and fatigue
Virus and other infections
Vaccinations
Injuries
Surgical operations and anesthesia
Pregnancy
Emotional stress
Contraception
Weight
Miscellaneous influences
Not all people with MS will be affected by all of the aggravating factors. Some people will never be affected by any of them. But why tempt fate? Learning about these factors is the first vital step in taking control.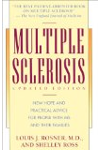 More About this Book
Multiple Sclerosis
Too often, multiple sclerosis is thought of only as "the crippler of young adults." But in fact, 75 percent of all people with MS will never need a wheelchair. In Multiple Sclerosis, Dr. Louis J....
Continue Learning about Multiple Sclerosis Symptoms