This is not meant to build up false hopes. We say the cure is right around the corner with one strong qualification best summed up by Dr. Stephen Reingold, now retired but for many years, head of research and director of grants management for the National Multiple Sclerosis Society in New York. He explained:
The answer depends on something significant - that everything we've learned so far is in the right direction. This is not a criticism of multiple sclerosis (MS) research, in particular, it is an inherent problem with research in general. When you deal with a mystery, you follow clues and you develop strategies. You go down paths and make decisions at certain points based on the evidence that you've accumulated. The beauty of the scientific process is that if you're doing it right, those paths will lead you to an ultimate conclusion or answer to the question that you're asking. But there's always the possibility that as you go around the bend, you're going to be struck by something that you hadn't thought of before which will set you back twenty steps.
Ever since MS was first defined as a disease, some doctor has claimed the cure is near. We know that people have been misled every decade because of premature claims. But the truth is that today, scientific evidence has reached such a sophisticated level that we truly believe the cause of MS will soon be proved and this will rapidly lead to a real cure.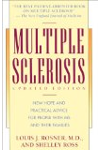 More About this Book
Multiple Sclerosis
Too often, multiple sclerosis is thought of only as "the crippler of young adults." But in fact, 75 percent of all people with MS will never need a wheelchair. In Multiple Sclerosis, Dr. Louis J....
Continue Learning about Multiple Sclerosis Research & Innovations