Stem-cell therapy is certainly an exciting and promising direction for people with multiple sclerosis (MS) and many other diseases. Still, so much more research is needed to determine if the adult stem-cell mechanisms can, indeed, be identified and controlled, and if existing stem cells from a healthy tissue can be induced to repopulate and repair diseased tissue. Scientists have many basic questions to answer: Does a single type of stem cell exist - possibly in the bone marrow or circulating in the blood - that can generate the cells of any organ or tissue? What are the factors that stimulate stem cells to relocate to sites of injury or damage? Why can embryonic stem cells proliferate for a year or more in the laboratory without differentiating, but most adult stem cells cannot? What are the factors in living organisms that normally regulate stem-cell proliferation and self-renewal?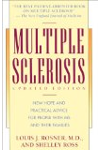 More About this Book
Multiple Sclerosis
Too often, multiple sclerosis is thought of only as "the crippler of young adults." But in fact, 75 percent of all people with MS will never need a wheelchair. In Multiple Sclerosis, Dr. Louis J....
Continue Learning about Multiple Sclerosis Research & Innovations