Scientists today are working on the premise that multiple sclerosis (MS) is an autoimmune system disease triggered by a virus. The way to tell whether something is an autoimmune disease or not is to take an animal with the disease, remove immune system cells, transfer them to a new animal without the disease, and see if the new animal gets the disease. If it does, it proves the disease is autoimmune. In MS studies of guinea pigs, rats, and mice, this has been proved, although here we must add another slight qualification. Because they don't know how it is contracted, scientists are not able to give MS to animals. All laboratory animal tests use a disease that is very similar to MS, experimental allergic encephalomyelitis (EAE). It is the closest disease to MS that scientists have to work with, but it is not exactly MS.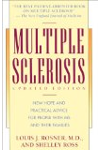 More About this Book
Multiple Sclerosis
Too often, multiple sclerosis is thought of only as "the crippler of young adults." But in fact, 75 percent of all people with MS will never need a wheelchair. In Multiple Sclerosis, Dr. Louis J....
Continue Learning about Multiple Sclerosis Research & Innovations