There are two types of stems cells used in research:
Embryonic stem cells from leftover embryos created for in vitro fertilization. Fertility doctors create embryos by removing eggs from a woman's fallopian tubes and fertilizing them with sperm in a petri dish. Because of the pain, expense, and high failure rate, doctors usually create more embryos than they can use. Those left over are frozen and, by permission of the donors, can be donated to research. By one estimate, 400,000 embryos are currently stored in clinics across the country. (Less than 3 percent will be donated to research and many will be destroyed.) Embryonic stem cells are very promising because they are pluripotent; they can grow into any type of cell in the body. They can also be easily grown in the large numbers needed for stem-cell research and replacement therapies. This is also the case with stem cells taken from umbilical cord blood and placentas.
As long as the embryonic stem cells in a culture are grown under certain conditions, they can remain undifferentiated (unspecialized). If cells are allowed to clump together, forming embryoid bodies, they begin to differentiate spontaneously. They can form muscle cells, nerve cells, perhaps as many as 200 different cell types. Although spontaneous differentiation is a good indication that a culture of embryonic stem cells is healthy, it is not an efficient way to produce specific cell types. The hope is that if scientists can learn how to reliably direct the differentiation of embryonic stem cells into specific cell types, they may be able to use the resulting cells to treat certain diseases.
Adult stem cells
are those found in bone marrow and blood. They have also been identified in many organs and tissues, including the brain, skeletal muscle, skin, and liver. In tissue, however, a very small number of stem cells are found. Adult stem cells are generally limited to differentiating into cells of their specific origin. Although not as desirable as the embryonic stem cell, one potential advantage of using adult stem cells is that the patient's own cells could be expanded in a culture and then reintroduced into the patient, eliminating immune system rejection.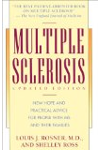 More About this Book
Multiple Sclerosis
Too often, multiple sclerosis is thought of only as "the crippler of young adults." But in fact, 75 percent of all people with MS will never need a wheelchair. In Multiple Sclerosis, Dr. Louis J....
Continue Learning about Multiple Sclerosis Research & Innovations