With so much research under way, many scientists are complaining that all the "virgins" are gone. They are referring to individuals who haven't been exposed to any previous treatment that might affect a new trial. Test subjects are in great demand, and many people with multiple sclerosis (MS) are anxious to seek promising new therapies. But the decision to participate in a research program must not be taken lightly. As in any experiment, long-term benefits and side effects are unknown - that's why they have to be tried out on you. No matter how noble your intentions, you must take all aspects of your personal situation into consideration and discuss them in detail with your personal physician, who can help you evaluate the pros and cons. If you'd like to have more children, for example, it's probably best to stay clear of experimental therapies that may cause sterility. Still, not all tests involve therapies with toxic side effects. Some, such as the studies of polyunsaturated fatty acids, just involve taking diet supplements. Others simply test well-known drugs for other symptoms.
If you decide that you would like to participate in a research program, you will need a strong commitment to the scientific process. The tests may be time consuming and may require years of follow-up examinations. Worse, the tests may not only be time consuming but at the end of six months or a year you will learn you only received the placebo. It's also important to understand that you may not be eligible for the next trial that comes down the pike.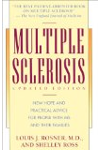 More About this Book
Multiple Sclerosis
Too often, multiple sclerosis is thought of only as "the crippler of young adults." But in fact, 75 percent of all people with MS will never need a wheelchair. In Multiple Sclerosis, Dr. Louis J....
Continue Learning about Multiple Sclerosis Research & Innovations