The focus of much multiple sclerosis (MS) research has been in the area of epidemiology - the study of diseases in terms of their geographic and ethnic occurrence, with analysis of all factors including environment and heredity. The epidemiology of MS is nothing less than intriguing.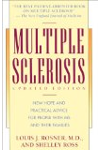 More About this Book
Multiple Sclerosis
Too often, multiple sclerosis is thought of only as "the crippler of young adults." But in fact, 75 percent of all people with MS will never need a wheelchair. In Multiple Sclerosis, Dr. Louis J....
Continue Learning about Multiple Sclerosis Research & Innovations