On May 1, 1945, Sylvia Lawry placed an ad in the New York Times to help her brother who had multiple sclerosis. It read, "Multiple sclerosis (MS) - will anyone recovered from it please communicate with patient." About 50 people responded, and although none were "recovered," all agreed that an organization was needed to coordinate their efforts. After that response, Sylvia Lawry founded the National Multiple Sclerosis Society (NMSS).
Since its founding, the NMSS has expended over $500 million to advance research. According to its public information, its nationwide income in 2005 was $207 million. Less than 3 percent of that income is from pharmaceutical companies and was received in the form of grants.
The mission of National Multiple Sclerosis Society (NMSS) is simple: to end the devastating effects of the disease on behalf of the 400,000 Americans who have multiple sclerosis (MS), and their families. To that end, it has a staff of 1,250 paid employees, supplemented by 468,530 positions filled by volunteers who carry out the NMSS daily operations. The Society has 500,000 members including 342,000 individuals who have MS.
The Society partners with the health care community to promote quality health care and serves over one million people annually. A 24-hour services hotline is available by calling 1-800-FIGHT MS. Its website is now counting 54,000 visitors a day.
For a complete list of international organizations, member and non-member, log on to www.msif.org or see the listings in the back of this chapter.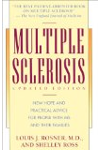 More About this Book
Multiple Sclerosis
Too often, multiple sclerosis is thought of only as "the crippler of young adults." But in fact, 75 percent of all people with MS will never need a wheelchair. In Multiple Sclerosis, Dr. Louis J....
Continue Learning about Multiple Sclerosis Research & Innovations