Each study is geared toward either relapsing-remitting or secondary-progressive multiple sclerosis (MS). Researchers may design a particular trial to include a specific age, sex, DSS disability rating, or even a particular symptom. So don't be disappointed if you're not right for a particular study. Be assured that you're more in demand than you know. But also keep in mind that the study best suited for your situation might not be in your neighborhood. Unless you have your own resources (not to mention motivation) to live close to the medical center where a particular trial is taking place, you're going to have to hold tight. It's more important for research funding to go directly to the investigation than to your living expenses.
Keeping up to date on current research trends is up to you. For many this is an important reason to see their neurologists every six months, even if their personal situations have not changed. This is also a reason to make sure to choose a neurologist who keeps on top of the latest information. There has been an explosion of information in just the last few years, and it's still coming in fast and furious. Make sure your neurologist is in contact with nearby research facilities. Usually, when a study is gearing up, scientists will contact local neurologists in order to enlist patients. If you are interested in participating in a future project, you must let your own doctor know about this so he or she can keep an eye out for a suitable program. If you don't feel your neurologist is supplying you with enough information, consult directly with a neurologist at a research facility.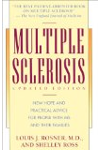 More About this Book
Multiple Sclerosis
Too often, multiple sclerosis is thought of only as "the crippler of young adults." But in fact, 75 percent of all people with MS will never need a wheelchair. In Multiple Sclerosis, Dr. Louis J....
Continue Learning about Multiple Sclerosis Research & Innovations