There are three ways a "multiple sclerosis (MS) virus" could trigger the immune system response: (1)
a direct virus attack, (2) a bystander effect, or (3) an immunological cross-reaction.
There is no evidence that the immune system is triggered by either a direct virus attack or a bystander effect, in which the virus would be so sequestered in the myelin sheath that the immune system would chew at the nervous system to get at the virus, destroying myelin, which happens to be in the way. However, there is some evidence of an immunological cross-reaction between the virus and myelin, which are both made up of chemicals. If the immune system has a poor recognition factor built in, it may not be able to tell the difference between viruses and myelin. So, as soon as the virus sets oft the immune system to chase after it, it chews away at the virus and then goes after the myelin. This is called molecular mimicry, and it allows us to believe that certain viruses have biochemical sequences that overlap with myelin proteins and can trigger an autoimmune reaction. There is some preliminary evidence from animal studies that it can work that way. Molecular mimicry may also explain why scientists have failed to uncover the "MS virus." Once cross-reaction to a myelin protein occurs, it is no longer necessary for a virus to be present. The virus is gone, but the immune system, now sensitized to myelin, can repeat the cycle of attacks without it. Still, until there is real documentation that this occurs, scientists will continue to look for an "MS virus," with a focus on the so-called slow viruses.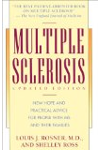 More About this Book
Multiple Sclerosis
Too often, multiple sclerosis is thought of only as "the crippler of young adults." But in fact, 75 percent of all people with MS will never need a wheelchair. In Multiple Sclerosis, Dr. Louis J....
Continue Learning about Multiple Sclerosis Research & Innovations