Who is the master detective who will solve the mystery? A basic scientist? A practicing doctor? It might even be a patient. That's not as farfetched as it sounds. One Canadian woman named Sylvia Hall, who was diagnosed as having multiple sclerosis (MS) in 1980, has led scientists down a very intriguing research path. Not only did she and her sister develop MS, she knew of six more girls from their high school who had the disease. Subsequent investigations revealed that, in all, twenty-seven people who lived within five miles of the little Saskatchewan town of Henribourg (population 300) during the 1940s, developed the disease. Today only one person with MS actually lives in Henribourg, so had it not been for the detective work of Sylvia Hall, it is doubtful scientists would have discovered this "hot spot." In the rest of the province, the incidence of MS is 115 per 100,000. In Henribourg the incidence could be calculated at 9,000 per 100,000. In 1983 scientists at the University of Saskatchewan agreed to investigate the conditions of the town before and during World War II, when the Hall sisters and their friends were in high school together (prior to age fifteen). They interviewed people who lived there, took extensive soil and water samples, and are still pursuing the lead. No one knows what might actually be discovered in Henribourg; the point is that one woman with MS, who wrote to universities all over Canada to stir up interest in her discovery, could conceivably make a difference.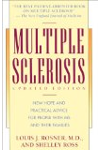 More About this Book
Multiple Sclerosis
Too often, multiple sclerosis is thought of only as "the crippler of young adults." But in fact, 75 percent of all people with MS will never need a wheelchair. In Multiple Sclerosis, Dr. Louis J....
Continue Learning about Multiple Sclerosis Research & Innovations