Some multiple sclerosis (MS) patients are not aware of most multiple sclerosis attacks. A very conservative estimate is that patients have 10 silent attacks for every attack they are aware of. These "silent" attacks can eventually affect memory, cognition and other important areas.
Multiple sclerosis (MS) is the most variable of the serious neurological diseases. Some individuals have MS and are unaware of it; that is, they have no symptoms. In this case, the illness is suspected usually because an MRI scan of the brain was performed for another reason, such as a headache or head injury, and the scan reveals changes suggestive of MS. There are no guidelines on how to manage this situation, but follow up by a neurologist would be good advice.
In some cases, people who are known to have the lesions of multiple sclerosis (MS) have no symptoms throughout their lives. This is called "silent multiple sclerosis." Drs. Markey and Hirano first speculated about silent MS in 1967. More recently, a study suggested that for every four patients clinically diagnosed with MS, there is one person living with silent MS. Independently, at the Basel Institute of Pathological Anatomy in Switzerland, the Georgi series of 15,644 random autopsies found MS lesions in twelve subjects who had no medical history of MS signs or symptoms. Still, there is no answer yet as to why one plaque will cause symptoms and another will not.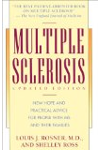 More About this Book
Multiple Sclerosis
Too often, multiple sclerosis is thought of only as "the crippler of young adults." But in fact, 75 percent of all people with MS will never need a wheelchair. In Multiple Sclerosis, Dr. Louis J....
Continue Learning about Multiple Sclerosis (MS)