Multiple sclerosis (MS) usually strikes at an age when a parent's active child rearing is over. The parent-child roles have been redefined for better or for worse. You, the parent, may finally have begun to enjoy a part of life with less responsibility. With college bills out of the way, you'd been thinking more toward your retirement fund and personal desires. But your adult child's MS diagnosis has thrown you for a loop. You were hoping your child would look after you in your sunset years. Now that looks like it's in jeopardy, too. What's more, your instinct is to jump in and make it all better, but your parental guidance may not even be wanted right now.
Hang on and take one step at a time. Everyone wants to remain independent, and it is to be hoped that everyone can. You, too, are going to have to learn to take one step at a time and not go crazy worrying about all the "what ifs." You've done a proper job in preparing your child to face adversity. However, no one is expected to be ready to face an incurable illness, so don't analyze what you did right and what you did wrong.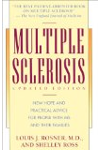 More About this Book
Multiple Sclerosis
Too often, multiple sclerosis is thought of only as "the crippler of young adults." But in fact, 75 percent of all people with MS will never need a wheelchair. In Multiple Sclerosis, Dr. Louis J....
Continue Learning about Multiple Sclerosis (MS)