Because the natural course of multiple sclerosis (MS) is highly variable, it is impossible to predict the nature, severity, or timing of progression in any given person. In an attempt to better understand individual variations of the disease and to develop appropriate management
plans, MS has been categorized into four clinical courses:
- Relapsing-remitting MS (RRMS) -- At the onset, RRMS is the most common form of the disease. It is characterized by clearly defined acute attacks -- also known as exacerbations -- that last from days to weeks, with full recovery or with some remaining neurological symptoms and residual deficit upon recovery. Periods between relapses are characterized by stability and the absence of disease progression. About 85 percent of those with MS are initially diagnosed with this form of the disease.
Secondary progressive MS (SPMS) -- SPMS initially begins with a relapsing-remitting course, that later becomes consistently progressive at a variable rate. The course of the disease may continue to include occasional relapses and minor remissions. Individuals with SPMS accumulate deficits from which they do not recover completely. Permanent and slowly progressive gait problems often herald the onset of SPMS. Without disease-modifying therapy, about 50 percent of those diagnosed with RRMS will become progressive after ten years.
Primary progressive MS (PPMS) -- Characterized by progression of disability from the onset, primary progressive MS worsens without any distinct relapses or remissions. Temporary, minor improvements may be experienced. The initial attack often affects the cervical spinal cord, causing gait problems. This form of MS tends to develop at a later age than the other forms of the disease and affects men and women equally. The MS lesions also tend to affect the spinal cord than other forms of the disease. PPMS is somewhat rare and is estimated to occur in about 10 percent of those with MS.
Benign MS -- Benign MS is characterized by mild or no disability, full neurological function, and very few relapses after 15 years of disease onset. Of those with RRMS, 5 to 20 percent may be classified as having a benign disease course.
Like other diseases, multiple sclerosis (MS) has mild forms and more serious forms. Think of arthritis, for example. Some people will only get a sore elbow when it rains, while others suffer far more debilitating effects. MS actually has four known courses - benign, relapsing-remitting, secondary-progressive, and primary-progressive.
The benign course is characterized by a sudden onset. The patient will report only one or two mild attacks with complete or nearly complete remission. There will be no disability involved.
The relapsing-remitting course also has a sudden onset. The patient has relapses with remissions and suffers no permanent damage. These patients experience no restrictions in their daily activities and tend to remain gainfully employed. There are often long periods of remission.
The secondary-progressive course starts out with attacks with full remissions, but five or more years after onset it will turn progressive.
The primary-progressive course involves a slow worsening without remission. The onset is much slower. In some patients the permanent damage can be severely disabling; in others, it is not.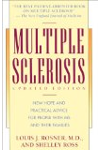 More About this Book
Multiple Sclerosis
Too often, multiple sclerosis is thought of only as "the crippler of young adults." But in fact, 75 percent of all people with MS will never need a wheelchair. In Multiple Sclerosis, Dr. Louis J....
Continue Learning about Multiple Sclerosis (MS)