Clinically, the hallmark of multiple sclerosis (MS) is the attack - the rapid appearance over a week or two of new symptoms that usually last two to six weeks but sometimes six months or more. Attacks vary greatly from person to person and from time to time in the same person. While some patients experience a combination of symptoms all at once, others find they appear one at a time. In some cases, patients have MS with no symptoms at all.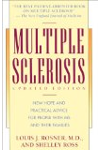 More About this Book
Multiple Sclerosis
Too often, multiple sclerosis is thought of only as "the crippler of young adults." But in fact, 75 percent of all people with MS will never need a wheelchair. In Multiple Sclerosis, Dr. Louis J....
Continue Learning about Multiple Sclerosis (MS)