Today's magnetic resonance imaging (MRI)-diagnosed patient experiences a greater shock because of the quickness of the diagnosis. This type of shock is not the kind that is going to induce a heart attack. It is a more passive shock; the person is not able to get a grip on exactly what it all means and what to do about it, entering an "I-can't-believe-this-is-happening" state. Many newly diagnosed patients are not ready to identify the problem, talk about it, wrestle with it, or deal with it. They are numbed by it. Since this phenomenon is so new, few doctors today are prepared to handle the "quickly" diagnosed patient. Before the MRI, it took much longer to make an multiple sclerosis (MS) diagnosis, and people had more time to get used to the idea. Many patients would actually make the diagnosis before the doctor. They'd go to the library, do their own research, and tell the neurologist of their suspicions. Ultimately, many were relieved to find out they weren't crazy.

The MRI diagnosis has created more profound shock. Pearl Rapp, a social worker who facilitated therapy groups for newly diagnosed patients at the Neuropsychiatric Institute at UCLA, described one clear indication of the change:

With each new group, I organize one meeting where medical experts are on hand to answer questions. I encourage group members to invite as many guests as they want - husbands, wives, brothers, sisters, parents, children, anybody. In the past, each member would bring a minimum of two or three guests to the research lecture. The new groups are different. This year, only one person brought one guest. I believe it is the shock of the MRI diagnosis.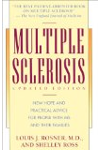 More About this Book
Multiple Sclerosis
Too often, multiple sclerosis is thought of only as "the crippler of young adults." But in fact, 75 percent of all people with MS will never need a wheelchair. In Multiple Sclerosis, Dr. Louis J....
Continue Learning about Multiple Sclerosis (MS)