One problem with double-blind control study, especially in multiple sclerosis (MS), is that the patient getting the placebo is often helped because of the psychological effect of believing that something positive is being done. Some patients in a clinical environment away from the stresses of everyday life, who might even bask in the attention that comes with good medical care, will report they feel better after taking the placebo. This is called a "placebo effect" and it has been known to influence up to 70 percent of MS patients in clinical trials. While this can really confuse test results, the double-blind study is still the only scientifically acknowledged test today. For this very reason, many MS treatment studies do not follow the double-blind protocol. Some researchers are also forced to sidestep double-blind studies because of difficulties in finding participants. Many patients do not want to enter a prolonged program without a guarantee they will be getting the real treatment. It is difficult to ask people with an incurable disease to give their time, their hopes, and their energies just to advance science. Compassion often hangs in the balance against science. If a study is of a truly promising treatment for MS, doctors may proceed without a double-blind control rather than deprive a patient of a drug that might work. In other cases willing participants are rejected from a study because of involvement in previous tests, a factor that could alter results. In fact, because of the enormous amount of clinical trials being conducted, many researchers are complaining that too many of the eligible candidates have already been "taken."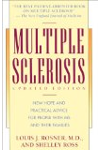 More About this Book
Multiple Sclerosis
Too often, multiple sclerosis is thought of only as "the crippler of young adults." But in fact, 75 percent of all people with MS will never need a wheelchair. In Multiple Sclerosis, Dr. Louis J....
Continue Learning about Multiple Sclerosis (MS)