Although all the people indirectly involved with multiple sclerosis (MS) have many emotional issues in common, you have one issue to face all on your own. You have to decide if you can deal with getting married or you have to deal with the decision that you can't. Some painful soul-searching is going to be required as the meaning of "for better or for worse" becomes much more real. No one will be able to give you any answers. Some may be able to accept this news but others may not. If you are the type of personality who tends to be overly fearful of what the future may hold or you are a "worrier" type, this problem may bring out the worst side of you. Take your time in thinking out your decision. Ask your partner's permission to consult with the neurologist and set up an appointment. (Permission is necessary to breach patient-doctor confidentiality.) Then talk to your lover and try to sort out, with tenderness, how you both feel. This is a moment for great strength and bravery on both your parts. Underneath is a great love affair that feels like it's crumbling. It is not. You both still love each other. That doesn't change. The decision to stay together forever, however, just might.
Interestingly, couples who do ultimately choose to stay together have a great chance of a successful marriage. The strength of their love for each other is tested before they exchange their vows, and they pass with flying colors. It is not uncommon to live "happily ever after" in spite of MS. Not everyone makes that choice, however, and if you choose not to make a commitment to someone with MS, that is your prerogative. You must, however, be honest. There is no other reason you can invent that will be believable. It will probably make you feel better if you wait a "grace" period and then find some other reason to break up, but this is deceitful and more painful. If you determine you do not want to remain with someone who has MS, you must identify the reason and explain it lovingly. In the words of the Seven Sages, "Know thyself." Then once you do, you must reveal to your partner that you are too fearful, too selfish, too inflexible, and so on. Explain that you both should move on because although you are in love, you are no longer compatible for the long haul. Then move on. Don't drag things out and suggest compromises like, "We should try seeing other people." You are mature people who are in love and if you chose to cut the cord, you must.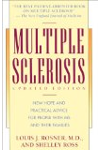 More About this Book
Multiple Sclerosis
Too often, multiple sclerosis is thought of only as "the crippler of young adults." But in fact, 75 percent of all people with MS will never need a wheelchair. In Multiple Sclerosis, Dr. Louis J....
Continue Learning about Multiple Sclerosis (MS)