As you learn about the disease, you may wonder if it's something you passed along to your child. Parents wind up feeling guilty about everything. You've probably read that although multiple sclerosis (MS) is not a hereditary disease, there is a "genetic susceptibility" that can run in a family. Don't beat yourself up over this, either. Scientists also believe exposure to an as-yet- undiscovered virus before age fifteen may be what causes genetically susceptible people to develop MS. No parent is expected to raise a child in a bubble. It's not your fault, so don't act as if it is. It's something that just happens.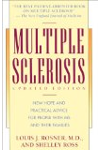 More About this Book
Multiple Sclerosis
Too often, multiple sclerosis is thought of only as "the crippler of young adults." But in fact, 75 percent of all people with MS will never need a wheelchair. In Multiple Sclerosis, Dr. Louis J....
Continue Learning about Multiple Sclerosis (MS)