Multiple sclerosis (MS) is often confused with other diseases, most commonly muscular dystrophy (MD) and arteriosclerosis. Multiple sclerosis is not related to either. Muscular dystrophy is a disease of the muscles; arteriosclerosis is a disease that causes hardening of the arteries and blood circulation problems. Because MS is confined to the central nervous system, it has been confused with amyotrophic lateral sclerosis (ALS), also known as Lou Gehrig's disease. Amyotrophic lateral sclerosis is a disease of the nervous system, but it is very different from MS; it has no effect on the myelin sheath but destroys the motor neurons in the central nervous system that directly control muscles.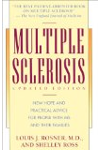 More About this Book
Multiple Sclerosis
Too often, multiple sclerosis is thought of only as "the crippler of young adults." But in fact, 75 percent of all people with MS will never need a wheelchair. In Multiple Sclerosis, Dr. Louis J....
Continue Learning about Multiple Sclerosis (MS)