Multiple sclerosis (MS) is a disease that affects people from all over the world. That said, MS is more common in Northern Europe and some countries with colder climates, and less common in tropical countries. It is more common in people with Northern European descent and less common in people of Chinese, Japanese and African descent.
Worldwide research shows that multiple sclerosis (MS) has a definite geographical distribution. It has been long established that MS is more prominent in colder regions and very rare in subtropical and tropical areas - the farther away from the equator, the higher the incidence of MS. In the United States, the farther north, the more MS. And, in fact, if a line were drawn straight along the thirty-seventh parallel, the incidence above the line would be almost twice that below it: Canada has twice the MS incidence of the United States.
Around the world, high-density areas of MS (30 cases per 100,000) include northern Europe into the USSR, Canada, the northern United States, New Zealand, and southeastern Australia. Medium-density areas (between 5 and 29 cases per 100,000) include northernmost Scandinavia, the central USSR, southern Europe, the southern United States, and much of Australia. Low-density areas (fewer than 5 cases per 100,000) include all of Asia and the tropics.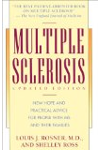 More About this Book
Multiple Sclerosis
Too often, multiple sclerosis is thought of only as "the crippler of young adults." But in fact, 75 percent of all people with MS will never need a wheelchair. In Multiple Sclerosis, Dr. Louis J....
Continue Learning about Multiple Sclerosis (MS)