Multiple sclerosis is not a psychogenic disease (i.e. one caused by emotional stress in which tests performed to determine the cause of symptoms are normal).
A psychogenic disease is one that is caused by an emotional condition or process, such as a skin rash or tension headache caused by stress. Although stress, depression, and other emotional factors can aggravate multiple sclerosis (MS), studies show that they do not cause it.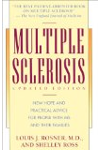 More About this Book
Multiple Sclerosis
Too often, multiple sclerosis is thought of only as "the crippler of young adults." But in fact, 75 percent of all people with MS will never need a wheelchair. In Multiple Sclerosis, Dr. Louis J....
Continue Learning about Multiple Sclerosis (MS)