A metabolic disease is one in which there is a disruption in the way our body uses sugars, fats, and proteins to produce energy and building blocks. Multiple sclerosis is not a metabolic disease.
A metabolic disease would reflect some internal chemical abnormality in the body - such as a disturbance of hormones, sugar levels, or enzymes. Because the age of onset in women is closely associated with puberty, and the risk of developing multiple sclerosis (MS) decreases around the time of menopause, scientists examined a hormonal association. But when no hormonal changes were consistently found in MS patients, this association was soon ruled out. At one time MS was also blamed on high blood sugar. Twenty years ago, a neurology resident gave a diabetes drug called Orinase to an MS patient. (Orinase was also being used at the time to treat acne.) Incredibly, the man's MS went into remission. The resident then gave Orinase to seven other patients who allegedly went into remission, too. After this was published in the highly regarded Journal of the American Medical Association, MS clinics across the country tested very large groups, unfortunately without any scientific benefits. Similarly, other metabolic causes have been considered and rejected. These include dietary and nutritional theories about both excesses and deficiencies.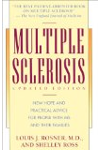 More About this Book
Multiple Sclerosis
Too often, multiple sclerosis is thought of only as "the crippler of young adults." But in fact, 75 percent of all people with MS will never need a wheelchair. In Multiple Sclerosis, Dr. Louis J....
Continue Learning about Multiple Sclerosis (MS)