A congenital disease is one with which a person is born. But since there has never been any evidence that people are born with faulty myelin, congenital theories have basically been ruled out. If people were born with faulty myelin, it wouldn't take so long to show up. The cause for multiple sclerosis (MS) must account for its age of onset.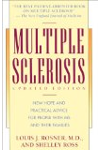 More About this Book
Multiple Sclerosis
Too often, multiple sclerosis is thought of only as "the crippler of young adults." But in fact, 75 percent of all people with MS will never need a wheelchair. In Multiple Sclerosis, Dr. Louis J....
A congenital disease is one which is present at birth (i.e a disease which someone is born with). Multiple sclerosis is not a congenital disease.
Continue Learning about Multiple Sclerosis (MS)