The magnetic resonance imaging (MRI) is helping doctors zero in on more definite multiple sclerosis (MS) diagnoses than ever before. Oddly enough, there are some who regard this as a curse. One Los Angeles neurologist preferred the "good old days," when patients were "spared" the MS diagnosis for five or six prime years of their lives. We disagree wholeheartedly. An earlier, clear-cut diagnosis is much better. Since an MS diagnosis is not the end of the world, the sooner one hears it, the sooner one can learn to cope with it and get on with life accordingly. For example, a woman might choose to have a baby sooner, while she knows her MS is more likely to remain in a mild stage and she is better equipped to deal with a toddler. Another person might choose not to have children at all; priorities might now be to return to graduate or law school. An MS diagnosis will no doubt change a person's life, and no one is saying it's easy to deal with. But it's foolish to think anyone would be better off not knowing.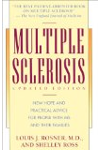 More About this Book
Multiple Sclerosis
Too often, multiple sclerosis is thought of only as "the crippler of young adults." But in fact, 75 percent of all people with MS will never need a wheelchair. In Multiple Sclerosis, Dr. Louis J....
Continue Learning about Multiple Sclerosis (MS)