A parent of a child with multiple sclerosis (MS) might want to reassess life insurance policies and wills. Depending on the individual situation and the status of other family members, you may choose new estate planning. Discuss this with your child and your lawyer or financial adviser. Whether through discrimination, the high divorce rate, or actual job-related disability, MS will unfortunately cut the lifetime earnings of many, probably most, people who have it. If you want to do something constructive, make the necessary accommodations for the person with MS in your will.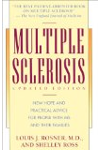 More About this Book
Multiple Sclerosis
Too often, multiple sclerosis is thought of only as "the crippler of young adults." But in fact, 75 percent of all people with MS will never need a wheelchair. In Multiple Sclerosis, Dr. Louis J....
Continue Learning about Multiple Sclerosis (MS)