One of the most common and serious emotional affronts to the person with multiple sclerosis (MS) is denial by those who are close. Especially when symptoms are invisible, it's hard to believe the person with MS is sick at all. In therapy groups from coast to coast, the same story is heard over and over. The person with MS just looks too damn good for others to believe he or she has a disease that sounds so foreboding. Although anyone can get stuck in the denial phase, more anecdotes seem to be relayed about husbands who never seem to accept that anything is wrong. Some of these denials are incredibly blatant - the husband even refuses to believe the diagnosis coming straight from the doctor's mouth. Other denials are more subtle. A diagnosis might be accepted, but real complaints are written off as either insignificant or due to other causes.
Beyond that, there can be a refusal to discuss MS at all. Even when the person with MS experiences a long period of remission, the subject is going to come up. A current news report on a research discovery, the decision to make a year-end charitable contribution to the National MS Society - whatever the reason, the subject is going to come up from time to time. Don't fall into the trap of not wanting to hear about it. If a certified neurologist has given your loved one a definite MS diagnosis, you've got to believe it. Don't fool yourself that this is some kind of mistake. Denial on the part of another is one of the most painful things a person with MS has to deal with. The alienation it causes can be devastating.
This must be distinguished from "healthy denial," in which you are helping your loved one make MS less of a focus in life. An unhealthy denial is when you're convinced the person with MS is just fine. Do you refuse discussion of MS? Have you refused all suggestions to attend therapy sessions or support groups? Do you find yourself minimizing complaints or creating other reasons for symptoms? Have you ever found yourself saying something like, "Oh, it's not fatigue. You're just down in the dumps. Get out of the house for a while, you'll feel a lot better"? Has someone handed you this book with this page earmarked? Don't be stubborn. Make an appointment and talk to the neurologist or counselor on your own. Take down the walls and enrich your relationship. The consequences of denial can be severe.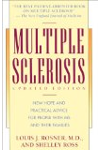 More About this Book
Multiple Sclerosis
Too often, multiple sclerosis is thought of only as "the crippler of young adults." But in fact, 75 percent of all people with MS will never need a wheelchair. In Multiple Sclerosis, Dr. Louis J....
Continue Learning about Multiple Sclerosis (MS)