Instead of getting angry that you weren't told sooner, ask yourself why you were told now. Does the person need your help or support at the moment? Was he or she trying to protect you before? Has your life situation changed so that he or she feels the timing is more appropriate for you now? Did the person need time to deal with it alone before involving you? Has your relationship bonded into something more meaningful than before? Was he or she afraid of rejection? There are many answers to "why now?" The odds are that the one you'll hear will at least be understandable.
Finally, if you think about it, you should take comfort in the fact that you had no idea your loved one had multiple sclerosis (MS). This means that the disability is not visible and he or she has chosen not to make MS the focus of life. You now share a private secret. Learn about it, talk about it, but don't dwell on it.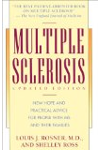 More About this Book
Multiple Sclerosis
Too often, multiple sclerosis is thought of only as "the crippler of young adults." But in fact, 75 percent of all people with MS will never need a wheelchair. In Multiple Sclerosis, Dr. Louis J....
Continue Learning about Multiple Sclerosis (MS)