Things you can do to manage fatigue related to multiple sclerosis (MS) include:
At home you can:
Divide household tasks more equitably with family members.
Simplify tasks like cooking so they are less stressful. For example, cook more frozen vegetables or freeze individual servings of a meal, so you can give yourself time off from meal preparation.
Make tasks less fatiguing. For example, put a table and chair in the kitchen so you can sit while cutting or stirring.
Identify and abide by your priorities. If it's important for you to continue working, take some shortcuts with household tasks, or eliminate some of them.
Cut back on tiring leisure activities, or make energy-conserving adaptations (such as planting a smaller garden).
Minimize or combine trips.
At work you can:
Manage your workload to accommodate fatigue. For example, if you feel good in the morning but tire rapidly in the afternoon, do your most demanding work in the morning.
Ask your employer about flex time.
Consider multiple short breaks instead of an hour-long lunch. Perhaps a 30-minute lunch and two 15-minute breaks.
This content originally appeared on HealthyWomen.org.
With multiple sclerosis (MS), it is very common to recover completely from an attack except for the fatigue that lingers for months afterwards. Frequently, the patient is completely normal for years, except for what is probably the most common residual symptom—lack of energy.
Traditionally, coffee and tea are good stimulants. And many patients believe that daily shots of vitamin B12 give them a boost. This has never been proved scientifically, only anecdotally from patients. Brewer's yeast, in a dosage of upto thirty tablets a day, is a simpler step to gain more energy.
The antiviral flu medication, amantadine (Symmetrel), is sometimes effective in relieving fatigue in people with MS. Side effects might include dry mouth, dizziness, trouble concentrating, and irritability. Prozac, a popular drug for treatment of depression, can also help to alleviate MS-related fatigue.
When fatigue is the patient's main problem, everything that could possibly affect energy must be looked at. Is the person refusing to use a walking stick for long distances? Is depression the cause of fatigue? Is urinary frequency causing interruption of sleep? Is the daily routine efficient?
Reorganizing daily activities can often have a dramatic effect on the patient's energy. Very often the person can accomplish more in the beginning of the day and less in the afternoon. If this is the case, as many chores and errands as possible should be gotten out of the way early and a rest break should be taken later on. Also, sit down at every opportunity. Standing eats up valuable energy that you would rather store. Can you trade certain taxing chores with others in the household? Are you trying too hard to prove to yourself and everyone else that you can do everything? Let the kids and your friends help out. If you didn't have MS, you would probably insist, so don't become a martyr now.
If necessary, keep a log for one week and write down what you do throughout each day. Put a notation at the points when you get tired. Look at it as if it were a battle plan, and restructure your schedule where needed. Your fatigue is real, but if you take the offensive, you can reduce it greatly.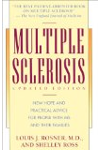 More About this Book
Multiple Sclerosis
Too often, multiple sclerosis is thought of only as "the crippler of young adults." But in fact, 75 percent of all people with MS will never need a wheelchair. In Multiple Sclerosis, Dr. Louis J....
It is up to you to empower yourself and discover ways to manage your fatigue if you have multiple sclerosis (MS).
Prioritize! Prioritizing means to rank tasks in order of their importance or urgency to you. In order to do this, you must take time to reflect upon what is most important to you and why. It can be helpful to divide your life's activities into five areas: Self-care, Family, Leisure, Career, and Community Activities. Once you decide what is important to you in each area, make your goals specific and realistic.
For example:
1) "I want to get up each morning and be dressed and ready for work on time."
Lay out your clothes for the next morning, shower the night before.
Keep all make-up (or shaving gear) and hair care products together. Sit down while doing your hair and make-up/shave.
Keep automatic coffee pot/ tea maker in the bedroom.
Night before prepare breakfast (have out bowl and spoon for cereal, glass for milk).Use disposables to avoid clean up.
2) "I want to attend my daughter's soccer game every week."
Plan out entire week on Sunday by writing down everything you need to do.
Avoid scheduling any fatiguing task (such as vacuuming the entire house, or mowing the front and back lawn) on the day of the soccer game.
Plan a rest period before the game.
If it is hot outside, take cooling products, ice water, and an umbrella for shade.
3) "I want to continue my career."
Get a commitment from your spouse/significant other for support and assistance.
Find someone to assist with housekeeping, child care and meal preparation.
Disclose if appropriate, and ask for accommodations, if necessary. Remember to offer solutions when asking for accommodations.
Continue Learning about Multiple Sclerosis (MS)