Since 1992, the American Disabilities Act (ADA) has protected people in the workplace from discrimination. The ADA has a definition of "disability" that each person must meet: you must have a physical or mental impairment that limits one or more major life activities and medical records of that impairment. Some people with multiple sclerosis (MS) do not qualify. Many will. Any company with fifteen or more employees must accommodate disability in the workplace. But it's up to you to request what is needed.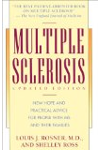 More About this Book
Multiple Sclerosis
Too often, multiple sclerosis is thought of only as "the crippler of young adults." But in fact, 75 percent of all people with MS will never need a wheelchair. In Multiple Sclerosis, Dr. Louis J....
Continue Learning about Multiple Sclerosis (MS)