Also known as C3A5MP, Adenosine-5-Monophosphate is a chemical found normally in the nerves and muscles. In the 1950s a doctor who had MS self-administered this chemical, believing that multiple sclerosis (MS) might be caused by a deficiency of it. He claimed his MS improved and stayed better, but trials in many clinics failed to support his findings.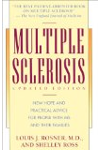 More About this Book
Multiple Sclerosis
Too often, multiple sclerosis is thought of only as "the crippler of young adults." But in fact, 75 percent of all people with MS will never need a wheelchair. In Multiple Sclerosis, Dr. Louis J....
Continue Learning about Multiple Sclerosis (MS)