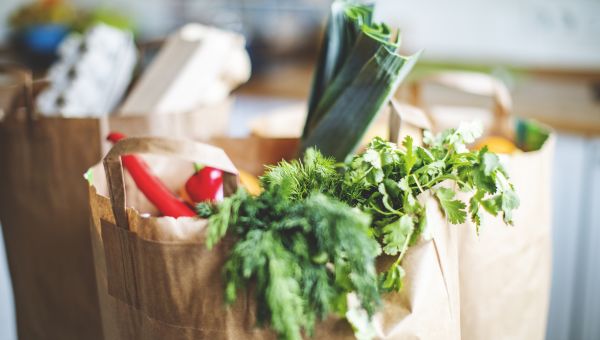 Find out which diet may help reduce fatigue commonly associated with MS.
If you suffer from multiple sclerosis (MS), you're probably all too familiar with the daily struggles of debilitating chronic fatigue. In fact, a whopping 80 percent of people with MS experience exhaustion, according to the National Multiple Sclerosis Association, which can make doing everyday tasks at home or work seem nearly impossible. But you don't necessarily have to live with fatigue forever. There may be something simple you can do to have more energy: Change your diet.
According to a small, yearlong Oregon Health and Science University study, people with relapsing-remitting MS, the most common form of MS, who ate a plant-based, low-fat diet of starches, fruits and vegetables (no meat, fish or dairy), experienced significantly less fatigue than those who didn't follow the diet. They also lost significantly more weight, had significantly lower cholesterol levels and reported having a better overall mood.
Why diet makes a difference
One reason boils down to nutrition. Fruits and vegetables are full of good-for-you vitamins, minerals, healthy fats, fiber and phytochemicals, which can help make you feel more energized. Fiber, in particular, helps slow down the body's absorption of sugar, stabilizing energy levels. Junky, sugary, processed foods tend to have the opposite effect, making you feel more tired.
Another explanation may be that a plant-based, low-fat diet is anti-inflammatory. MS is considered an autoimmune disease, where the body's immune system overreacts, leading to inflammation. That inflammation can contribute to fatigue. By eating foods that fight inflammation, like those in a plant-based diet, you may feel less worn out and also better in general.
The weight-loss and mood benefits in the study probably helped, too. Excess weight and depression are also thought to bring on MS fatigue.
Starting a plant-based diet
A healthy plant-based diet is made up of fruits, vegetables, whole grains, beans, nuts and seeds, and avoids full-fat dairy products, meats and refined, processed foods. Here are some tips to get you started:
Stay smooth: An easy way to eat fruits, vegetables and seeds is to make a smoothie. Think strawberries, spinach, chia seeds and more. Just get foods you love and start blending.
Stock your freezer: You don't need to eat fresh fruit and produce. Frozen works just fine—and you won't have to worry about spoilage. Try adding frozen veggies to stir-fry, pasta, casseroles and soups.
Be prepared: One simple way to stick to a plant-based diet is to by pre-prepared fruits and vegetables. You can also make a habit of keeping a bowl of fruit or cut up veggies in your fridge that are ready-to-eat.
Medically reviewed in November 2018.