Often the people who cope best with a multiple sclerosis (MS) diagnosis are those who have doctors who can cope with it. Even today, many doctors who are uncomfortable with the diagnosis will use vague or obscure euphemisms such as "inflammation of the nervous system," "a disease of myelin," or "a neurological problem that may come and go." This can keep patients in limbo. In general, it is best that the patient be told, without hesitation, "Your diagnosis is multiple sclerosis. Let me explain what that means."
Because the best-informed patient is the one who will fare best, no one should be afraid to go to another neurologist for a second opinion. And no one should be too embarrassed to ask the first doctor to forward test results and records. A good neurologist will understand and even encourage this. Those who don't know of any other neurologist can ask their family physicians to recommend one or call their local branch of the American Medical Association or National Multiple Sclerosis Society and ask for the names of a few board-certified neurologists. Medical schools or teaching hospitals can be of help, too. After the disclosure, the next step is getting good information about multiple sclerosis (MS).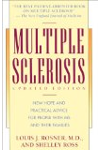 More About this Book
Multiple Sclerosis
Too often, multiple sclerosis is thought of only as "the crippler of young adults." But in fact, 75 percent of all people with MS will never need a wheelchair. In Multiple Sclerosis, Dr. Louis J....
Continue Learning about Multiple Sclerosis Diagnosis