Multiple sclerosis (MS) is difficult to diagnose because the symptoms can come and go, and the severity of symptoms can also be inconsistent. In this video, neurologist Carolyn Brockington, MD, explains why MS can be difficult to properly diagnose.
Because multiple sclerosis (MS) is a disease marked by attacks and remissions, symptoms that appear and disappear, its diagnosis has always been difficult. And even when MS has been strongly suspected, many doctors have often been reluctant to inform the patient of an unconfirmed hunch. Instead, they have been more likely to wait for more signs or symptoms to appear, a process often taking many years. But these are revolutionary times for diagnosticians. Finally, after a century of guesswork and uncertain evaluation, advanced technology allows the first clear visualization of MS lesions. Although there is no actual test to detect the disease, the magnetic resonance imaging (MRI) leaves little doubt in MS diagnoses. The sophisticated $2 million scanners use magnetic fields up to 30,000 times stronger than the earth's radio-wave pulses. These provide pictures of the central nervous system never before seen with X-rays or CAT scanners, the specialized diagnostic tool introduced in the 1970s. The MRI has created a revolution in MS diagnosis.
The MRI has taken much of the guesswork, frustration, and anxiety out of the process. It can almost always confirm a diagnosis. But doctors are still not prescribing them as routinely as dental X-rays. First, the scanners cost approximately $2 million each, plus $1 million more to install. Each scan can run between $1,000 and $1,500, so doctors may choose alternate, less costly laboratory tests early in the elimination process.
Still, the medical community has rallied around the MRI, and for MS patients that's great news. It was only in November 1985 that Medicare agreed to pay for MRI tests. Many private insurance companies, health maintenance organizations (HMOs), and the state Medicaid programs followed. If used properly, all agree, the MRI can actually cut down on hospital costs by cutting down on unnecessary surgery or batteries of unnecessary tests.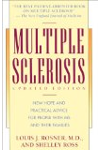 More About this Book
Multiple Sclerosis
Too often, multiple sclerosis is thought of only as "the crippler of young adults." But in fact, 75 percent of all people with MS will never need a wheelchair. In Multiple Sclerosis, Dr. Louis J....
Continue Learning about Multiple Sclerosis Diagnosis