For many, a positive (and accurate) multiple sclerosis (MS) diagnosis comes as a relief after weeks, months, often years of uncertainty. But for others, the diagnosis is a shock that hits hard. As diagnoses are made faster and faster with the increased use of the magnetic resonance imaging (MRI), the impact can hit even harder. It is now possible to make a definite clinical diagnosis of MS within one week of onset. When should a doctor inform a patient of the diagnosis? If the diagnosis is definite MS, there is no question that the patient should be informed immediately. Sometimes the family is informed first and asks the doctor to keep the diagnosis a secret from the patient. Almost always, this is not a wise decision; every patient has the right to know.
When the diagnosis is probable or possible MS, the question becomes cloudier. With a probable diagnosis, most doctors feel the patient should be told after these questions are considered: How sure is the neurologist? How bad is the patient's case? Has the patient expressed the desire to know? Some patients don't want to know until the doctor is absolutely sure; they need to deal with the diagnosis in their own time.
A few years ago I was called to testify as an expert witness in a case brought against a neurologist who had told his patient everything about her disease but had never used the actual words multiple sclerosis. At the time she was actually classified as only a probable case, and he was reluctant to be more definite. Unfortunately, the patient left a job with solid medical benefits only to find herself a year later with a second MS attack and no insurance. Although a jury awarded her $100,000, no legal precedents were set and the issue will probably be debated for a long time.
With possible MS, which is basically just a suspicion, the patient is usually not told unless he or she asks directly. This is touchy since the diagnosis often turns out to be something else.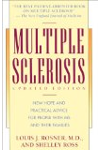 More About this Book
Multiple Sclerosis
Too often, multiple sclerosis is thought of only as "the crippler of young adults." But in fact, 75 percent of all people with MS will never need a wheelchair. In Multiple Sclerosis, Dr. Louis J....
Continue Learning about Multiple Sclerosis Diagnosis