Although the magnetic resonance imaging (MRI) is new to doctors and patients of this multiple sclerosis (MS) generation, it is not a bad trade-off. This shock is still better than suffering through the strain of not knowing what is causing the symptoms or thinking that one is crazy. The shock may now last longer, but it won't last forever. It just has to take its own natural course. One way of lessening the shock is to learn as much as possible about MS as quickly as possible. Reading good literature will help diminish the fear and preconceived ideas about MS.
Unfortunately, much of the material available is either dated or gloomier than necessary - books and articles picturing people with MS in wheelchairs and such. Be aware that much of the available information is lopsided and often overly dramatic or "inspirational."

The patient must also be cautious of selective listening or reading. This is where your own personality type may come into play. The "Pollyanna" may choose to retain only the most optimistic of statements and will be convinced that he or she is among the percentage of benign cases never to have a second attack. You can hope or pray that's your case, but convincing yourself you'll be that lucky will only set you up for a more dangerous emotional upheaval with the onset of a new sign or symptom. On the other hand, the "Skeptic" only remembers the worst cases written up in academic textbooks. This is just as bad. The person who is sure something horrible is going to happen will diminish his or her quality of life long before any aspect of MS will.

The only way to work toward acceptance and face the emotional challenge of MS is to learn what may or may not happen and then believe that you will be able to face future challenges if and when they happen.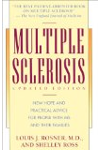 More About this Book
Multiple Sclerosis
Too often, multiple sclerosis is thought of only as "the crippler of young adults." But in fact, 75 percent of all people with MS will never need a wheelchair. In Multiple Sclerosis, Dr. Louis J....
Continue Learning about Multiple Sclerosis Diagnosis