An "evoked potential" is the brain's electrical response to stimulation of a sensory system, such as when light is flashed into the eyes. The evoked response test can actually record how long it takes for a stimulus to reach the brain. Harmless electrodes are attached to the scalp, connecting the patient to a device that records brain waves, called an electroencephalograph (EEG). Three tests are most common: visual, auditory, and pain stimulus.
Visual: There are many ways to record visual evoked potentials (VEP), including blink tests and flash responses. The most commonly used visual test is the pattern-shift visual evoked response (PSVEP), which involves a checkerboard pattern flashed in front of the patient's eyes as a computer records the times it takes for the electrical impulse to reach the visual center in the brain. If the transmission is slow or absent on one side, this confirms an abnormal spot along the visual pathway. The visual evoked response test has proved extremely valuable; it has shown unsuspected lesions in patients who were never even aware of having a visual problem.
Auditory: This test records how long it takes for a ten-second click to travel from the ear to the auditory center in the brain. If the response is slow or absent, it frequently indicates the presence of a brain stem lesion. The medical name for this test is the brain stem auditory evoked response (BAER). In a large study of 1,000 MS patients, 46 percent had abnormal BAER results. Other studies show that, in spite of obvious abnormalities, hearing is seldom seriously impaired in multiple sclerosis (MS) patients.
Pain stimulus: Although visual and sound tests are completely painless, the pain stimulus test (somatosensory evoked potential, or SSEP) can be uncomfortable. It measures how long it takes the brain to record an electrical current on nerves at the finger, wrist, or knee. The SSEP assesses spinal cord and brain stem lesions.
Since part of the diagnostic criteria for MS includes lesions in at least two main sites, the evoked response tests have been very helpful - especially since they can often detect a silent lesion. However, multiple abnormalities on evoked response tests do not categorically point to an MS diagnosis. Vitamin B12 deficiency, neurosyphilis, lupus, and other diseases are also known to cause multiple lesions.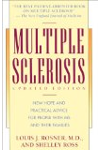 More About this Book
Multiple Sclerosis
Too often, multiple sclerosis is thought of only as "the crippler of young adults." But in fact, 75 percent of all people with MS will never need a wheelchair. In Multiple Sclerosis, Dr. Louis J....
Continue Learning about Multiple Sclerosis Diagnosis