At the time of diagnosis, the multiple sclerosis (MS) patient will make a conscious or unconscious choice of whom to lean on. Be sensitive to the choice. It may not be you. If you are not the spouse, for example, but someone very close just the same, make sure you're not interfering in the dynamics of what the couple must go through together. Or if you know the patient's big brother has always been able to work magic, give them some room. See who's around, and try to figure out where you best fit in. Be sensitive but be there. If you've been informed, you've been involved. Listen, give support and reassurance, but don't give advice. The diagnosis is no time to discuss job changes or moving into a one-story house. If this is your first experience with MS, you'll need a crash information course before you do anything more than offer comfort. Even if you've read a lot of material, it's going to take time to absorb the information and process how it fits into everyone's life.
There will be plenty of time to deal with important issues down the road. First, deal with the shock and grieving period that follow a diagnosis. Most important, help get the person with MS through the current episode. If an exacerbation is still in progress, make sure the patient is following doctor's orders. If the newly diagnosed person is in a denial phase, he or she may, for instance, refuse to take prescribed medications or refuse to rest. Don't assume someone else is monitoring the situation. Check it out yourself. If there is a problem, don't talk to the person like a child who won't swallow the cough syrup. Address the person in a straightforward manner and say, "At the risk of sounding like an armchair psychologist, I think this is what you're doing ..."
Unless the doctor has ordered otherwise, extend regular invitations to get out of the house. If you always go out for Sunday brunch, try to keep the routine going. It's okay to try a little coaching if your invitation is declined, but don't push too hard. Understand that emotional healing is in progress, and some people prefer to stay inside the home. When this happens, put yourself on call for when the person is ready to go out and get some fresh air.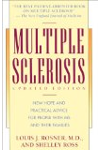 More About this Book
Multiple Sclerosis
Too often, multiple sclerosis is thought of only as "the crippler of young adults." But in fact, 75 percent of all people with MS will never need a wheelchair. In Multiple Sclerosis, Dr. Louis J....
Continue Learning about Multiple Sclerosis Diagnosis