Since the two go hand in hand, it is difficult for researchers to distinguish the effects of surgery from the effects of anesthesia. But it is fairly common for surgery to be followed by a new attack within one or two weeks. The cause is usually thought to be stress on the immune system, but other factors such as emotional stress may also play a part. In one study 8 out of 40 multiple sclerosis (MS) patients gradually deteriorated after a hysterectomy. The results are inconclusive because of the small size of the study, and investigators believe some hormonal or psychological factors might also be involved.
Although it has never been proved that surgery affects the course of the disease, avoiding unnecessary operations is a good principle for everyone to follow. When surgery is necessary, be sure the surgeon and anesthesiologist consult with the neurologist. They will need to discuss precautions such as preventing the fever that is very common after surgical procedures.
Spinal anesthesia should be avoided; this may precipitate an MS relapse. General or local anesthesia is a better choice. Local anesthesia is especially well tolerated by people with MS. In a 1978 study of 98 patients who had more than 1,000 local anesthetics for minor operations and dental work, only 4 noticed deterioration during the following month.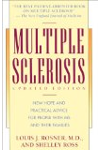 More About this Book
Multiple Sclerosis
Too often, multiple sclerosis is thought of only as "the crippler of young adults." But in fact, 75 percent of all people with MS will never need a wheelchair. In Multiple Sclerosis, Dr. Louis J....
Continue Learning about Multiple Sclerosis Causes & Risk Factors