Tumors have never been found to cause demyelination and therefore have never been suspected of causing multiple sclerosis (MS).
At one time, trauma, or injury, was thought to be the cause of MS. This was based on anecdotal accounts, not scientific evidence. Doctors still see many cases in which a patient has a minor injury, such as stubbing a toe in the middle of the night, and wakes up the next morning with numbness in the entire leg. But since this happens on very rare occasions, scientists consider trauma to be a precipitator of an MS attack rather than a cause of the disease.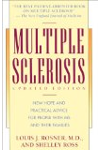 More About this Book
Multiple Sclerosis
Too often, multiple sclerosis is thought of only as "the crippler of young adults." But in fact, 75 percent of all people with MS will never need a wheelchair. In Multiple Sclerosis, Dr. Louis J....
Continue Learning about Multiple Sclerosis Causes & Risk Factors