Some of the most emotional arguments concerning multiple sclerosis (MS) center around the theory that the disease may possibly be transmitted by dogs and that the virus that causes MS might be canine distemper. Canine distemper is caused by a virus related to measles. It is an acute respiratory and gastrointestinal disease often complicated by a central nervous system disorder that can occur weeks or months later.
It has been proposed that exposure to the canine distemper virus (CDV) or exposure combined with, perhaps, a faulty measles immunity might cause MS. Although these theories rank among the most controversial, they do shed some light on some of the more peculiar MS clusters. One of the most intensively studied is in the Orkney Islands off the northeastern coast of Scotland. In contrast to the Faeroe Islands, which had one major epidemic, the Orkneys have consistently had the world's highest MS rate for the past century. (Prevalence rates have been as high as 309 per 100,000 compared with 58 per 100,000 in the United States today.) Oddly, it was recently discovered that MS incidence rates in the Orkneys have fallen significantly. In the most recent survey, taken on September 21, 1983, the prevalence rate had dropped to 193 per 100,000.
According to published research (Neurology, April 1985), the decline of MS in the Orkney Islands is linked to the decline of CDV, which until 1959 was "frequent, severe, and widespread." And, as in the Faeroes, British troops were stationed there during World War II. Veterinarians in the Orkneys reported that as the troops increased (ultimately to 60,000), so did the dog population. Puppies born on farms all across the islands were taken in as pets. It is believed that when the soldiers left, they left their dogs behind, and large numbers of strays roamed the deserted camps. Although CDV was always prevalent before the war, it became much more severe with the increase in the dog population.
Could this also explain the epidemic in the Faeroes? Did the presence of British troops cause an increase in the dog population and subsequent CDV incidence? Proponents of the CDV-MS hypothesis argue a strong connection.
Researchers have also used the CDV-MS hypothesis to explain an MS "time cluster" in Iceland following widespread CDV epidemics in 1921 and 1941. Ten years after each CDV epidemic, the annual incidence of MS increased significantly.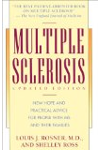 More About this Book
Multiple Sclerosis
Too often, multiple sclerosis is thought of only as "the crippler of young adults." But in fact, 75 percent of all people with MS will never need a wheelchair. In Multiple Sclerosis, Dr. Louis J....
Continue Learning about Multiple Sclerosis Causes & Risk Factors